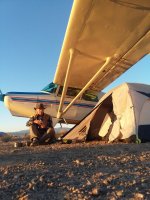 Last weekend. There is a long gravel strip near the semi-ghost town of Amboy, California. Located on the old Route 66, it's basically a gas station, motel, post office and not much else. Its 1950s neon sign is well-known and was lit up for the first time in decades. The whole place is slowly being restored..
Over 30 airplanes showed up, mostly taildraggers but also a Mooney, a Bonanza and a twin-engined Tecnam.
I flew out in the Maule, with a friend in a Carbon Cub. A fun event. The general crowd was much younger than the usual gatherings of pilots, where gray hair predominates.
Camped overnight and flew back in the morning. Not very often that you get to taxi you down Route 66 in your airplane. Likely this will be repeated in the future. See you there.
Last edited: