Well-Known Member
Log Member
Joined

Jan 30, 2011
Messages

3,886
Location
Since my "clamp-less" Ranger project is taking every clamp I can find...
The 'clecoed wood' idea is working out great for aligning the parts but they're not supplying enough clamping pressure (some do, some don't, it's not reliable). So I came up with some quick and dirty clamps that take care of alignment
and
clamping pressure.
The grey lines show the stick and the plywood and the 1/8" offset that I need for the top and bottom skins. The top clamp is for stock that's pretty close to 3/4" square (+/- a few thousandths). The bottom one let's me get away with stock that's a little farther out than that. ...not that any of my stock is more than .002 out
The mustache clamp replaces the tin cans full of nuts and bolts in the top picture. It applies pressure over about 5 1/2", perfect for the typical 6" cleco spacing. The #6 Nylon bolt goes up through a cleco hole that's in the middle of the panel where edge clamps wont reach.
There's just enough bow in it to apply even pressure along the whole clamp when the wing nut pulls the center down to the wood.
Here's the general idea...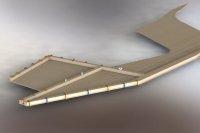 A set of three (one of each) cost about 10 cents and takes about 30 minutes to print. Most of that is the mustache, but I'll only a half dozen of those.
...continued on next post because I hit the picture limit
Last edited: