Well-Known Member
Log Member
Joined

Nov 3, 2015
Messages

828
Location
I'm hoping someone smarter than myself can help me find the magic # for engine,gearbox and prop combination.
The goal is to acheive maximum static thrust while still being able to maintain a decent cruise speed.
Once my Ragwing Stork is completed it will be my leisurely daily flyer but I would like to be able to repitch the prop and pull it onto the line for STOL contests also....
I've been using a prop calculator but I'm getting some conflicting #'s when plugging in the data.
I understand a small prop gives speed and a large prop gives thrust.....but with a in flight adjustable prop you should be able to find a good compromise between the two....it's not adding up that way though.
Here's the specifics .......
Ragwing Stork : 500 lb empty weight..I weigh 220 lbs....fuel 5 gallons when competing.
Cruise speed should be around 75 mph.
Rotax 670 engine : 100-103hp....Rick claims an honest 100 hp and Mike says another 3 hp with his custom pipe.
6500 rpm max.
E gearbox : ratios 2.68 - 3 - 3.47 - 4...maximum diameter allowed is 72".
Prop : Ivoprop 3 blade.....ground adjustable or in flight adjustable.
The problem that I'm having is I can get 500 - 600 lb static thrust but the cruise speed suffers.
Or I can get a decent cruise speed but static thrust suffers.
I've played with the numbers trying to find a happy median but things start getting weird.....
With an in flight adjustable prop...increasing the pitch does nothing for the cruise but raises the hp required...what's up with those numbers?
I understand you need more hp for pitch but I don't understand why the cruise speed doesn't increase with the pitch change.
Is the calculator not taking into account for the prop unloading with airspeed ?
I'm also finding that the 2.68 gearbox ratio is giving me better numbers than the rest.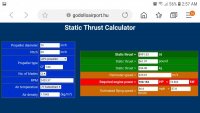 Kevin