Well-Known Member
Log Member
Joined

Jan 30, 2011
Messages

3,896
Location
A (mostly) 3D printed rotary 4th. axis with a pass-through collet that can handle 2 1/2" diameter tubes. >>
The biggest cheap chinese ebay 4th. axis setups can only take (through the chuck) < 3/4" tubes.<<
It's not ready to print yet, still have some details to sort out, but all the heavy CAD work is done.
Here it is on a CNCRouterParts CPR4896 but it would work on any CNC machine (I used the CRP4896 because they let you download the model and it's the machine I have in the garage)
Just to be clear: these are the parts I'm talking about...
The stepper motor is mounted separate from the collet. If the "steady rests" don't provide enough tension on the cog belt (not shown) then I'll have to come up with some sort of tensioner, no biggy.
Everything that holds the tube is 3D printed. The printed parts will cost about $20 and take 2 or 3 days to print. The collet holder (off white) will fit all the collets (yellow) up to 2 1/2". The red handwheel is the collet nut.
The red part in the steady rest has a surface for a hose clamp. I'll have to print different ones for different diameter tube but the mount (white) will fit all of them. Hopefully the V grove will remove any slop in the tube.
Cutaway view. Yeah, yeah... I screwed up the threads on the collet, easy fix. I'm sure I'll have to adjust the fit inside the steady rest. But this is a NEMA 34 motor (big) turning at 4 or 5 RPM, I'm not too worried about it.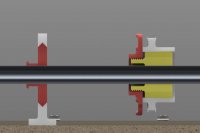 The goal of this thing is to cope and drill thin wall tubing faster and more accurately than I could by hand. It's NOT for making mechanical heart valves for Humming Birds.