Joined

May 2, 2015
Messages

192
Location
Last October I was chasing an oil leak after resolving one behind the flywheel I still had a mess. Finally traced the root of the problem to a crack in the case around a stud on the back left cylinder. The crack was "UN-repairable" for aviation use and I grounded the airplane. I had Scott Casler prep a new stroker case and move my rotating assembly over. Over the past 3 weeks I have assembled the long block electing to reduce the compression ratio from 8.7:1 to 7.2:1. This will allow me to burn other than 100ll and should run cooler yet make a touch less power on take off. (New Scat 0.035 push rods were cut to length these are the only aftermarket push rods Scott Casler recommends- They are stiff, light weight and have properly hardened ends.)
While fitting the long block back into the CYGNET SF2A the project rippled. Zig made a nice hard line but it needed to stretch about 1/4"... lacking -8 flaring tools I elected to fabricate in the field with components from my local race shop. Happy to save 1 ounce ahead of the firewall!
Next up when you observe something is not right that is the time to address it! After torquing my heads down on the airplane I came to the the conclusion it was time for new thermal couples. I found
John Monnett's method
of attaching them to solve some issues I do not like about the under the plug or current stud method. I have modified my approach and mounted them at the base of the fin. I will study the thermal offset on the right side this spring and report on how
these 1m Type K TC
have worked.
Allot of work remains to tidy up connect the intake and exhaust/ Bolt down the baffles! If the weather cooperates I should be warming the oil again by the end of February and ready to stress test the new block and prepare to finish my Light Sport Pilot ticket!
The VW is a neat well supported platform , no fear of parts going obsolete! Good supply of wear parts,heads,pistons... 10 minutes form my house and Greatplains/ Scott Casler are just a call away for the big stuff. I have enjoyed working on mine and it has served me reliably and gave plenty of warning before creating an issue in the air. I also appreciate Pop's advice and consultation along the way!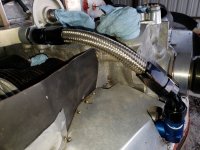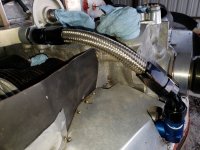 Once buttoned up and flying I will send more pictures until then if you need thermal couples on your project consider this approach. I have attached a few pictures for illustration.
Regards
Matt
Steward of NX237F
Last edited: