Well-Known Member
HBA Supporter
Joined

Feb 13, 2010
Messages

7,304
Location
To recap the OP's criteria:
<$40k good, <$20k better
Build time on the shorter side, say 2k hours or less
Primarily wood and fabric construction
Two seats minimum, tandem preferred but not required
>500 lb useful load OK, >600 lb preferred (pilot alone is 275 lb)
LSA fine but not required
50-150 kt cruise speed
>100 mile range, >200 miles preferred
4-stroke engine
>Removable or folding wings preferred, ideally only doable by one person
No significant modifications/redesign required
Looks are irrelevant (yippee, he likes Volksplanes!) ;-)
Taildragger OK, grass field operations
I have gone through a very similar list of criteria myself, and I think it comes down to whether or not you will really fly with wife and daughter or anyone else very often.
Do they fly with you now in rental aircraft? If you invite them to join you in day trips or overnights in a rented C172 and they are not enthusiastic, then maybe a VP-2 as a single-seater might be all you need.
I also think that pilots tend to like tandem seating, non-pilot passengers not so much, so it might be worth sending them both up for joyride in a Cub or something to get their opinion.
That said, looking at your criteria especially useful load then I would look at more than two seats, ideally three and more commonly four.
One plane you might consider is the
Peña Dahu
(also
here
) from France. It's a straightforward wooden taildragger designed for mountain flying that can be built as a four-seater with 180 hp and about 1100 lb useful load or kept light and spartan as a roomy two-seater with a 120 hp and about 660 lb useful load. Here's a
nice album from a sightseeing flight in the Alps
in one such plane with a couple of the photos below at reduced size. It does not meet the folding/removable wing criterion, but there are very few homebuilts with more than two seats that do.
Cheers,
Matthew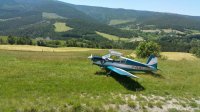 Last edited: