Joined

May 16, 2009
Messages

1,580
I started on the fairing molds today, I grabbed a couple of offcuts of mdf and laminated them together to make the slab 62mm thick.
While waiting (impatiently) for the glue to dry I cut some templates from 4mm thick pine ply
once the glue had set enough (almost) I cut the slab into some blocks,
Then used the templates to mark the sides for cutting,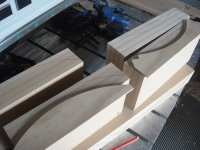 and cut them with the bandsaw. Kinda scary using the woodshop bandsaw when I don't use it all that often. 150mm of really sharp bandsaw blade cutting through mdf like a hot knife through butter is somewhat scary.
I screwed all the blanks onto a strip of plywood and started machining them to shape.
When I was rough cutting the second one, the glue line split. I should have left the glue to dry longer. A couple of screws held the parts together and I left it to dry longer while I cut the others. It turned out alright in the end.
Once I had them all cut with a reasonable coarse stepover finish pass, I coated them with epoxy. Heating things with the hair dryer to get a good soak into the mdf. I will give this a couple of days to set and then put a fine finish pass over them again. With a bit of luck the epoxy will seal the mdf well enough for molding. In other projects I have used wax as a sealer but it can sometimes allow the resin to bleed through to the mdf when molding parts.